Our vision is a world where a young person's start in life does not limit their future.
Why we exist
Britain has a deep social mobility problem. We are working to change this.
Only one in eight children from a low-income background is likely to become a high earner as an adult. Across the UK young people's experience and opportunities are closely linked to the status of their parents and the area they grow up in.
Our research shows that nearly half of pupils from the poorest backgrounds (on free school meals) don't know anyone in a job they would like to do. We know this affects young people's perception of their own ability, their expectations of future success, and the extent to which they value their school work.
Meeting former students helps to change this, boosting young people's confidence and motivation, and helping to transform their life chances.
Our mission is to see every state school and college in the UK supported by a thriving and engaged alumni community.
Access to relatable role models broadens students' horizons, helping them to imagine a world beyond their own. Having grown up in the same community and sat in the same classrooms former students are ideal volunteers to be such role models.
For generations, private schools and universities have effectively harnessed the talent, time and support that former students can offer. Since 2009, Future First has been making it easier for state schools and colleges to do the same.
How do schools use their alumni?
11 January 2018
Kingsbury High School, Brent, tells its story
"Looking at our Year 13s, I can see that the Alumni Day has had an enormous impact on them. It gave them role models, targets to aspire to and an insight into professions that they might not otherwise have considered."
– Andrew Mitchell, Aim Higher Manager
Kingsbury High School is an inner London state school with academy status, in the borough of Brent. We have over 2000 students, with just over 400 in the sixth form.
We decided to start working with our alumni to enhance the induction programme for new Year 12s. We wanted the new sixth formers to meet former students who could inspire them, give them the drive to succeed and set their mind on emulating their successes. The school has a really interesting history having been in the public eye for all sorts of reasons. For example, it was the set for one of the original series of Grange Hill! We also have lots of notable alumni, particularly in the arts. George Michael, jazz musician Courtney Pine and Rolling Stones drummer Charlie Watts all went to Kingsbury. I started working at the school in 1998 and joined Facebook as a way of keeping in touch with my former students. What I discovered was that ex-students were doing extraordinary things like working in the government and in the city as lawyers and bankers. Our proximity to the city was very helpful for that, we are lucky to be well placed and we have some really talented students. On that basis I suggested that an Alumni Day become part of the Year 12 induction.
To organise the Alumni Day the first thing we had to do was reconnect with former students. Our partnership with Future First was crucial in making this happen.
Each year we invite lots of people but we're always surprised by how many appear! Usually we can guarantee at least 20-30 from different periods in the school's history, people going back to 1960s/70s, but also some A-Level students who have just left. This means students can benefit from the experience of recent leavers who can talk in more depth about A Levels, BTECs, university life and apprenticeships as well as those who have more experience of specific professions or even running their own businesses.
We bring in half the year group and do a morning session where the alumni introduce themselves and talk about their education and career routes. We then break out so the students have an opportunity to talk to people in sectors that particularly interest them. We break this up with music and poetry performances by former students. I then bring the group back and draw on one or two alumni to go into more detail about their experiences in a Q&A format. We then repeat this with the other half of the year.
This year students heard from Christina Kumar, a qualified solicitor who is taking a year out to travel to the Philippines and fight against cyber-sex trafficking and Suraj Gosai and Jordan Douglas who have started their own, hugely successful online e-sports business. We also had two apprentices, which was great because it represented alternative routes to university. It was particularly useful for students to hear from people who had made careers out of cyber security, as it showed them how the job market can change. When those people were at school their jobs simply didn't exist.
Looking at our Year 13s, I can see that the Alumni Day has had an enormous impact on them. It gave them role models, targets to aspire to and an insight into professions that they might not otherwise have considered. Students formed relationships which meant that they became part of a larger network, in some cases this even led to work experience placements. One thing we're very proud of is that we are a state school but we have an incredibly strong networks so our current students know that they're following in great footsteps.
Our alumni network helps us to dispel any apathy or poverty of aspiration. We can tell that the students see themselves having exciting futures.
The tangible benefits of our alumni network are really exciting. A group of students will be visiting the Foreign Office as a result of contact with one of our former students. Some girls last year gained experience in a former student's commercial property business in Mayfair. This year we were granted an offer of work experience in a set of barristers' chambers. So many students have had their eyes opened to career paths as a direct result of meeting alumni. One of our students just got into the Pathways to Law widening participation programme at LSE, which was something they heard about on Alumni Day.
For any student who is serious about going into law, we now have a huge network of students who studied Law or Politics. Our head girl last year is now at Queen Mary London and was able to meet with former students who went to Oxford and Cambridge to study Law, and one who now works in the government legal service. It allows students to develop their networks and it's become a Kingsbury tradition to look out for each other. I should add that former students also visit annually to help students with their UCAS applications and this year, a former student who is Oxford graduate, contributed to our mock interviews for our current Oxbridge cohort.
23 November 2017
Ormiston Forge Academy, Cradley Heath, tells its story
"From my point of view, as Careers Advisor, it's been really useful to link up with former students to share information on career and education pathways."

Beverley Evans, Careers Advisor at Ormiston Forge Academy
At Ormiston Forge Academy, we make sure all of our students have a careers interview in Year 11 and that they get lots of support with thinking about their futures. We have a rising number of students who go on to Higher Education. At the moment, around 70 students apply to university and higher apprenticeships. This year, one student went on to do a degree level apprenticeship in Surveying, which is great as they're quite competitive. We're planning on inviting him to come back and talk to current students about his experience in the future.
I first started thinking about how I could work with our former students when we had a launch meeting in school to discuss how our alumni community could benefit students. The first event we arranged for Future First to run at the school was a Feeding Britain's Future workshop, in which a range of employers from the grocery industry came in to work with Year 12s. The volunteers were great and the session really helped open students' eyes to all sorts of careers they'd never even heard of.
After that, I thought it would be great to start inviting our ex-students back to the school for events like this and we've built up from there. From my point of view, as Careers Advisor, it's been really useful to link up with former students to share information on career and education pathways.
Towards the end of the summer term we ran two events involving former students. Our Alumni Programme Officer helped us to use the alumni portal to find a range of volunteers to come in and speak to our high ability Year 7 and Year 8 students.  A group of former students, including a social worker, a student nurse, an actor and an artist came along with a prop related to their job. Students had to guess what jobs they did and then at the end I asked the alumni to reveal their careers. We gave the younger students some prizes for their guesses! The former students shared their experiences with small groups of students who came with a list of questions to ask. It was brilliant! The students were really switched on, motivated and eager to get involved.  It really helped with communication and team work skills for the pupils. Those sorts of soft skills are really important for any interview, whether it's for university or a part time job.
We ran another event on the same day as part of our annual Higher Education week for Year 12s. The students were taken off timetable and encouraged to think about their future options. They got the chance to meet employers and learn more about university life, with sessions on things like student finance.  We invited a variety of employers and alumni to come along and speak to students in a carousel setting, a bit like speed dating!  We had lots of former students coming in and out throughout the day. It was great for students to hear about where the former students' qualifications had taken them. Involving alumni in something we already have going on in school worked really well. It's always nice for young people to meet former students from their school and find out about their progress and pathway. I think it's so motivational, as their advice is instantly relatable. Seeing that someone from their school has gone on to do something makes them think, 'I can do that as well'.
I think, for the Year 12s, meeting former students will have an impact on them applying to university or thinking more in detail about their future. I hope the process improves the number of students considering university, a foundation degree or a higher level apprenticeship.
I'll definitely involve alumni in this event next year and we're also going to invite them to our Careers Fair in February.
26 October 2017
St Dominic's Sixth Form College, Harrow, tells its story
Angela Inglese, Assistant Principal:
"St. Dominic's Sixth Form College is a Catholic Sixth Form College in Harrow. We have approximately 1200 students aged between 16 and 18 and around 100 members of staff. The college is very diverse. We are very popular in the local area so the rest of our intake is from a range of ethnic backgrounds. We are very proud to have been named The Sunday Times' Sixth Form College of the Year for 2017.
We decided to start working with our alumni about five years ago. We signed up to Future First because their ethos really resonated with us, particularly around the power of role models and the impact former students can have broadening young people's horizons. Through Future First, we are now able to keep in touch with our alumni and create a sense of community by sharing college news with them and requesting for their help and support throughout the academic year. We want to continue using our alumni to inspire students, especially those who are interested in careers that we don't currently offer much support on.
A large number of our career talks by alumni over the years have been to show our students that there are so many ways of being successful. Often in society, the focus is on academic success and we've been really fortunate to have a bank of wonderful alumni who can show our students and their parents that it's not always about being a doctor, it's more about giving them a chance to be who they are.
Since we joined Future First, every year, in the spring term, we invite our alumni back for an alumni panel and careers event. A few months before the event is due to take place, our Careers Team get together and decide which careers and courses we want to focus on, generally picking something from each department in the college. We invite all our Year 12 students and their parents to the event and we are usually joined by about 13 alumni, all from different backgrounds.
This event is run like a panel, with the Future First facilitators asking our alumni open-ended questions about the importance of working hard to get into university, work or apprenticeship schemes, or what the expectations are when they get there, and what university and work life is all about. We finish off with a break out session, enabling students to speak to each former student in more detail about their journey after leaving college. Our alumni also share any advice they have to give. It's great fun!
The most noticeable impact our alumni have is helping students understand the importance of their UCAS application. The whole point of this event is for students to understand what is on offer, what kinds of things they are interested in and whether they could then do that as a career and if so, how to get there.
Our students find it so helpful especially because they are hearing from those who were once in their seats. At St. Dominic's, we have always been keen on sharing the fact that it's not just about going to university. So every year for this event, we welcome former students who have applied for apprenticeships so that students who are keen on other pathways can also benefit from this event.
It's great that former students like to come back and visit us! At this year's alumni event, I was privileged to meet a student who I taught 10 years ago. She's now a politics lecturer and has just written her first book about how people express political ideas using graffiti.
I've had several conversations with students since the event and they have often pointed out things that alumni said. Hearing from alumni about their future choices means more to them than hearing from teachers.
One student had her heart set on medicine but having spoken to alumni who are pharmacists she now feels that pharmacy sounds much more achievable and is definitely a career she can use her skills to flourish.
The pressure to get good grades is very attractive for some students. But anxiety as a result of pressure is so common. To be able to find out something like this not only takes some of the pressure off but gives students a focus, boosting their motivation and their self-belief."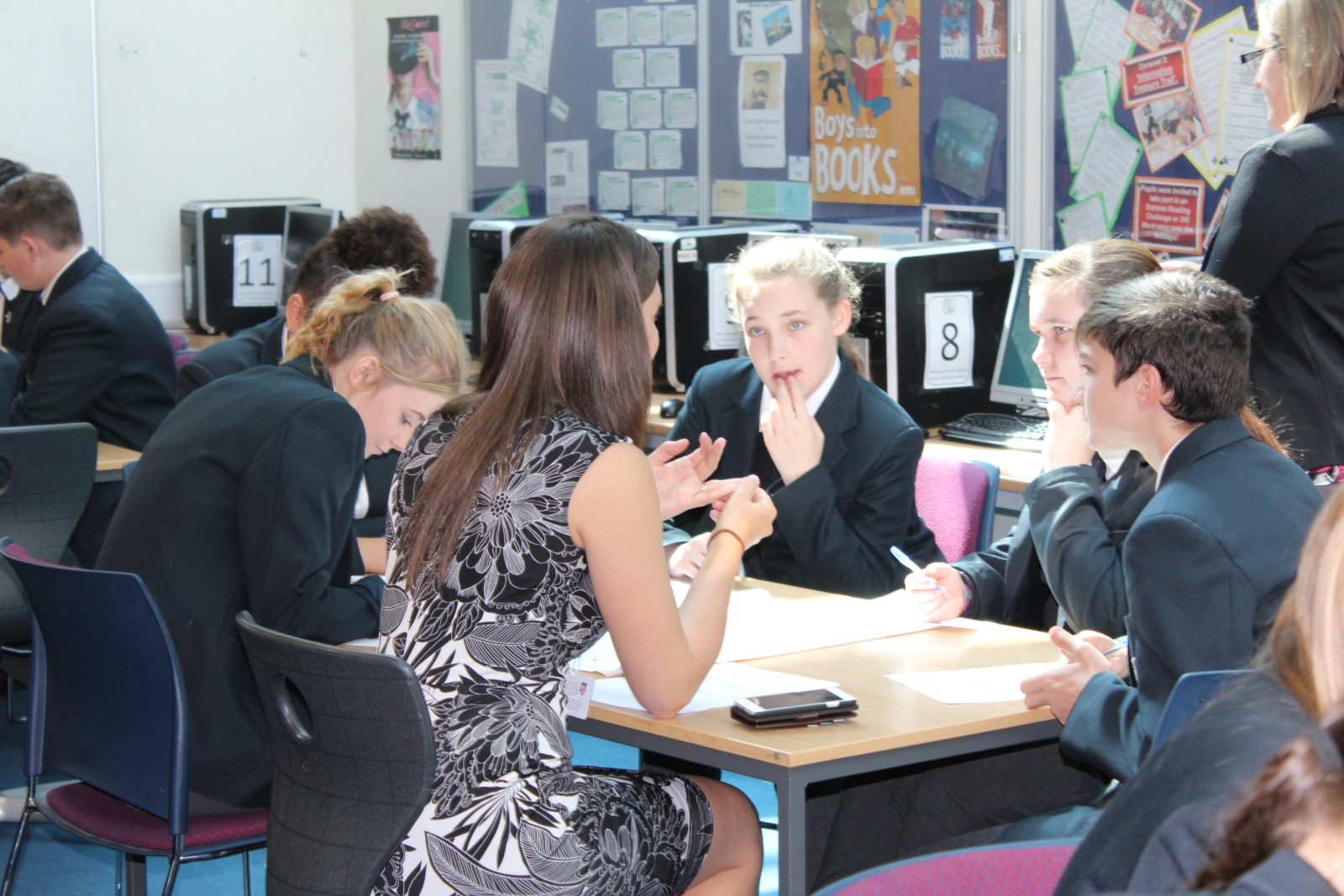 Subscribe to our eBulletin