Why we exist
Britain has a deep social mobility problem. This not only limits the contribution that individuals can make to society and the economy but is also fundamentally unfair.  Although there are some signs of social progress, there is evidence too that the problem is getting worse with only one in eight children from a low-income background likely to become a high earner as an adult.
At Future First, we believe that things do not have to be this way.
It is a basic injustice that young people's experience and opportunities are so closely linked to the status of their parents. There is a wealth of evidence showing a serious deficit in the state sector in students' confidence, knowledge about career pathways and access to role models compared to their private school peers. Too many people from the poorest backgrounds believe that 'people like me' don't succeed in life. Our own research shows that nearly half of students on free school meals don't know anyone in a job they would like to do.
We know that this affects young people's perception of their own ability, their expectations of future success, and the extent to which they value their school work. We know those in turn can change students' motivation and performance in school, as well as their success in life beyond it.
Future First is a national education charity that helps state schools and colleges to build alumni communities. At the core of our work is the drive to ensure that no young person's future is limited by their background.
Our Mission- What we do
We know that access to relevant and relatable role models can transform a young person's confidence, motivation and skills and that former students can be ideal role models. Having grown up in the same community and sat in the same classrooms, they can show students that 'people like me' do succeed.
Future First began when a group of state school students from Camden went back to their school to be just that. Motivated by their desire to improve the support offered to young people as they consider their futures, they came up with the idea of establishing a thriving alumni community in each school and college. Alumni could then return to share their experiences and offer support as role models, work experience providers, mentors and more.
Private schools and universities have benefited from a strong networks for decades. Our polling shows that alumni of state schools are just as likely to want to go back and share advice with students in their old seats, it's just that state schools are not as good at asking.
Our mission is to change that.
Future First is working across the UK to ensure that every school and college is supported by a thriving alumni community.
How do schools use their alumni?
24 November 2016
Skype Lessons from the Netherlands at Tiverton High School
Tiverton High School has shown how alumni can play a key role in supporting students from a 1000 miles away.
Former students can play a key role in the delivery of the core curriculum. Returning to their old classrooms, alumni enrich the curriculum by co-delivering lessons related to their careers, helping build students' understanding of the real-world application of their learning whilst boosting their motivation to work harder at the same time.
Tiverton High School is located in North Devon. Since many of their former students have moved away from the area, the school set out to find a way to involve alumni in the curriculum remotely. They decided to organise a series of talks, in which alumni use Skype to teach lessons on subjects related to their careers. The featured image is of Sally Hill, now owner of her own Scientific Translations company in the Netherlands. Sally skyping into a Year 10 geography class to talk about International Labour Markets, which the students were studying at the time.
Thinking of involving alumni in lessons? Get in touch with your alumni officer to get a copy of the 'In Curriculum: teacher toolkit'.
24 November 2016
'Send a Selfie' at The Bridge Academy
The Bridge Academy in Hackney has shown how a simple campaign involving recent leavers can be used to inspire current students.
The school launched its 'send a selfie' campaign in October. They asked former students to take a selfie in front of their university building, to inspire current students considering the university route. The pictures will be displayed at the upcoming sixth form open evening, to show parents and students that students from The Bridge Academy end up at top universities. The featured picture is of Tyronne Ellis, in his first year of Business Studies at Birkbeck, University of London.
This is just one example of the ways in which The Bridge Academy has harnessed the talents of its alumni this year.  Generously sponsored by UBS, the school has developed a more intensive In-House programme in partnership with Future First, in which a Future First alumni officer is based on site.
As a relatively new school, there are only four years of leavers. It's easy to think of older alumni as those most able to help, but there are so many ways that more recent leavers can volunteer to support current students too.
In June, the school organised an assembly focusing on 'What University is Really Like.' The assembly was for sixth form students, who were introduced to four alumni in their first year of university. They answered students' questions about class sizes, living away from home and choosing the right course.
For students not considering university, three alumni came back to speak in an 'Alternative Pathways' session. These alumni had gone straight into work or were undertaking apprenticeships, and came back to share their experience and advice with a group of Year 10 students who had been identified as less likely to go to university. The alumni spoke to students about less traditional academic routes and their experiences 'one year on'.
The Bridge Academy has also used the views of their alumni to inform the way that they work as a school. Three former students attended a Governors' Meeting to share their perspective on sixth form provision and the support they received whilst at the Academy.
16 November 2016
Mentoring for High Achievers at Warden Park Academy
Warden Park Academy, in Sussex, has worked with Future First for three years. They have harnessed the support of their former students in a whole host of ways, most recently as career speakers, mentors, and donors.
In October, the school launched their Highly Able Mentoring Scheme. The programme involves intensive interaction between a former student who specialises in a specific subject area and high attaining Year 10 students. They have kicked off the programme with Luke Mitchell who is currently at university.
The first session took place at the end of October, in which Luke co-taught a lesson on romantic poetry. He then ran an afternoon session focused on Literacy Criticism for 30 high attaining students. Due to great feedback from students, the school wanted to allow them to continue to engage with Luke. They set up a Google Classroom, in which Luke will post thought-provoking articles and initiate discussion amongst the students. He will also offer one to one guidance and advice on academic needs specific to English.
Not only does the scheme allow Luke to give back to his school, but it's also having an positive impact on his own academic career. Luke recently went into his second year of university: "Considering my proximity to my secondary school years, assuming the role of teacher for an hour or so was a great privilege and entirely new ground for me. Engaging students is an exciting challenge, and I was pleased that we achieved an atmosphere of real enthusiasm".
Luke values the support he can provide to students, particularly those who don't have older siblings: "I would have enjoyed having someone a little older than myself to talk about poetry with – serving a middle ground between student and teacher which isn't often satisfied unless there's an older sibling around".
Warden Park plans to roll the scheme out across core subjects over the coming year.
Thinking about launching a similar scheme in school? Get in touch with your alumni officer or email info@futurefirst.org.uk.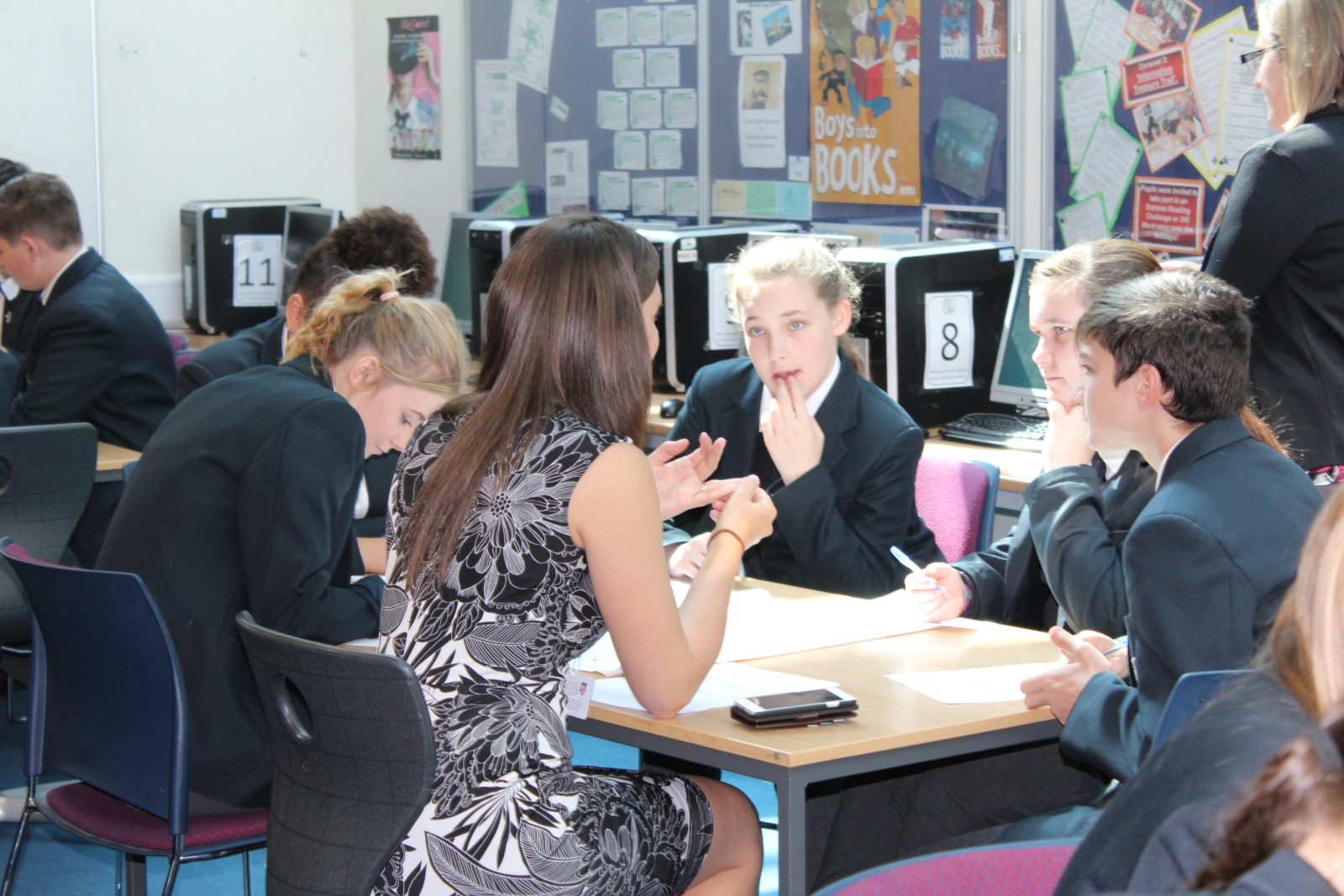 Subscribe to our eBulletin