Why we exist
Britain has a deep social mobility problem. This not only limits the contribution that individuals can make to society and the economy but is also fundamentally unfair.  Although there are some signs of social progress, there is evidence too that the problem is getting worse with only one in eight children from a low-income background likely to become a high earner as an adult.
At Future First, we believe that things do not have to be this way.
It is a basic injustice that young people's experience and opportunities are so closely linked to the status of their parents. There is a wealth of evidence showing a serious deficit in the state sector in students' confidence, knowledge about career pathways and access to role models compared to their private school peers. Too many people from the poorest backgrounds believe that 'people like me' don't succeed in life. Our own research shows that nearly half of students on free school meals don't know anyone in a job they would like to do.
We know that this affects young people's perception of their own ability, their expectations of future success, and the extent to which they value their school work. We know those in turn can change students' motivation and performance in school, as well as their success in life beyond it.
Future First is a national education charity that helps state schools and colleges to build alumni communities. At the core of our work is the drive to ensure that no young person's future is limited by their background.
Our Mission- What we do
We know that access to relevant and relatable role models can transform a young person's confidence, motivation and skills and that former students can be ideal role models. Having grown up in the same community and sat in the same classrooms, they can show students that 'people like me' do succeed.
Future First began when a group of state school students from Camden went back to their school to be just that. Motivated by their desire to improve the support offered to young people as they consider their futures, they came up with the idea of establishing a thriving alumni community in each school and college. Alumni could then return to share their experiences and offer support as role models, work experience providers, mentors and more.
Private schools and universities have benefited from a strong networks for decades. Our polling shows that alumni of state schools are just as likely to want to go back and share advice with students in their old seats, it's just that state schools are not as good at asking.
Our mission is to change that.
Future First is working across the UK to ensure that every school and college is supported by a thriving alumni community.
How do schools use their alumni?
07 September 2017
Highworth Grammar School, Kent, tells its story
Freyja Danielsen, Sixth Form and Careers Manager:
We are a girls' grammar school in Ashford, Kent and we have a mixed sixth form. At Highworth, as well as motivating students to work hard, we want students enjoy their experiences and want to study here.
A few years ago and after graduating from university myself, we began to realise just how much universities use their alumni and could see how powerful former student stories could be. When we started to re-connect with people it became clear very quickly just how much our alumni were willing to do for us and more importantly, how much they truly wanted to do for us. We think it's a brilliant concept and had heard that Future First were the best people to partner with to get things going. All the support we have received since then has been amazing. There has been so much guidance on the Core Programme. We've learnt how best to do things, when is best to do things, how to communicate with our alumni and been given ideas about how to involve them in school.
Our alumni have returned to Highworth on multiple occasions and it's wonderful to see how their enthusiasm grows each time. Most people leave Highworth loving the school and now they are able to join this fantastic network of other people who feel the same from across the years.
It's also having a real impact with our Year 13 leaving students, who for the first time this year actually asked if they could sign up to the network before we promoted it! It's now become something that students know they will be a part of when they leave school and it's something they want to do.
Over the past year we have paired a small number of Year 12 students with alumni for work experience placements. We have been extremely lucky that our alumni have been so willing to offer placements and if they can't offer in-person work experience, they have sent extensive tips for our Year 12s about their careers and sectors.
One of our most transformative work placements has been for Year 12 student Ella, who completed a week shadowing alumna Rebecca, Head of Content and Publishing at the BBC. Ella absolutely loved her time with Rebecca and ended up making further contacts during the week whom she's currently in conversation with about future placements in radio and television. After just her first day there, Ella emailed me to say how much she was enjoying it and Rebecca emailed to say that Ella was a real pleasure to have at the BBC. Afterwards, Ella applied to do an internship with ITV and Rebecca very kindly supported her with the application.
As the Careers Manager, I am always trying to highlight the importance of work experience and trying to encourage the girls to try different things, as they won't know if they like a certain job or way of working unless they try it.
Ella has become even more driven since her work placement to get a job in the media industry. Her application to ITV was successful and she's got an internship lined up, which Rebecca helped her apply for. They still keep in touch, which is great for us to know. This is the fantastic thing about our alumni, they get involved with one small thing or offer to help with one project and then it develops and snowballs and they end up supporting our students and going above and beyond for them. The connection they have can't be matched by teachers or external people and that's the best thing about it.
The impact that alumni have on our current students in general is that it completely opens their eyes to what is possible and available to them in later life. Alumni show our students that anything is possible and are the best people to demonstrate what you can achieve after leaving school. Some of our alumni are doing things that we've never heard of and that you definitely aren't aware of when you're 14 or 15. Students tend to know about more traditional jobs, so being a doctor, a teacher, a vet. They don't know that you can actually do social media as a job or about the different types of journalism that exist. It's these more modern careers that aren't spoken about enough in schools, so in terms of careers our alumni are incredibly key to opening the students' eyes.
We hope our alumni community continues to grow and are so glad that we have worked with Future First as we love working with them! In only a few years we have seen an overwhelmingly positive impact across the school and a real difference in the students who have interacted with them and been part of the programme.
We are so pro-alumni, we just want to keep trying new things and keep growing our network.
16 June 2017
Grey Court School, Ham, tells its story
Bernie Corrighan, Careers Adviser:
"Grey Court School is a mixed comprehensive for 11 to 18-year-olds. We opened a sixth form in 2014. We're based in Ham which is one of the most deprived areas in London, despite being in the borough of Richmond upon Thames. Students come from a mixed background: there're different cultures and races. Our free school meal percentage is in line with the national average and our last Ofsted rating was Outstanding.
I'm the careers adviser at Grey Court and at another school. We've run careers events for the last 10 years. We wanted to link in more with our alumni to get role models for our sixth formers. Any alumni work we had done before was very ad hoc. There wasn't a central place that we could go to contact alumni from specific sectors.
We've been working with Future First for three years now. We wanted to get access to more role models. We also wanted work experience offers for our sixth formers and to support any events that we're running in school. We just thought the advice would be so much better if it was coming from a real role model to the students.
My colleague Ian and I manage the alumni portal but we regularly talk about it to the rest of the staff body and ask if anyone wants to invite alumni in to support their subject area.
Teachers in the school are receptive and supportive. Whenever we do any events in the sixth form we ask if they'd like to invite alumni to come in and support it.
We hold a careers networking event for our Year 9s in which we run various workshops. We have about 20 alumni per session. The students split into pairs and work with the alumni who come from a range of careers. It's important because it opens them up to careers they don't know about – careers that are beyond their immediate reach.
We get such brilliant feedback from students. Parents even say students talk about the alumni they meet at home. The fact that students have to speak to strangers puts them out of their comfort zone. When they hear that someone came to this school they want to know about their time here and what kind of student they were. It puts them at ease because they can start with questions about the school.
We run mock interviews with Year 10 students: they're interviewed by alumni, which is great because it exposes them to people from the working world.
We did involve volunteers in these events before but it was very random – really ad hoc. We found volunteers through teacher connections. It wasn't very professional. Now that we have the alumni network we can be more specific about who we want and who is suitable for events, rather than it just being whoever you can get to volunteer. Now we can be selective about who we bring in to speak to the students.
Future First has encouraged us to communicate with our alumni network regularly. We send out a bulletin to alumni telling them what's going on in school and any updates about teachers. They want to know what's going on. We also thank them a lot, which is so important. They do a lot for us and we're really grateful.
Our alumni programme is mainly about careers and inspiring our students but we do a bit of fundraising. We have a Grey Court tree and alumni can buy leaves. We also held a reunion where alumni paid to come and visit – it was great and I think the alumni got a lot out of it.
One of my favourite things we do is a friends and founders evening for our Year 12s. They bring in their CVs and talk to people from different careers, and they try and find work experience placements. Quite a few students have gained experience from our alumni. One ex-student who works in Kingston hospital has offered placements to four students. Last year we had our first student go off to medical school. He could talk about what he'd done on the placement with the former student. I think a large part of him gaining the university place was his work experience with the former student – he wouldn't have got that experience without the alumni network. He's now at Manchester studying medicine.
We also had a female student who met an alumna at the Year 12 evening. She had regretted not taking photography for GCSE. She did a photography placement with a former student and it completely made her rethink her future – she's decided to study art based on this experience. Because of the alumni she has followed her passion and interests.
I've had a lot of conversations with students in careers interviews. They really do remember speaking to alumni and they cite the conversations in the interviews. A boy referenced speaking to a forensic scientist in Year 9 in his Year 12 careers interview three years later! It gets them thinking about their future, helps their decision making and raises their awareness of what's to come. For some, it's tangible experience like the work experience placements. Not everyone has those connections. The alumni offer opportunities that the students would not have otherwise had."
24 November 2016
Skype Lessons from the Netherlands at Tiverton High School
Tiverton High School has shown how alumni can play a key role in supporting students from a 1000 miles away.
Former students can play a key role in the delivery of the core curriculum. Returning to their old classrooms, alumni enrich the curriculum by co-delivering lessons related to their careers, helping build students' understanding of the real-world application of their learning whilst boosting their motivation to work harder at the same time.
Tiverton High School is located in North Devon. Since many of their former students have moved away from the area, the school set out to find a way to involve alumni in the curriculum remotely. They decided to organise a series of talks, in which alumni use Skype to teach lessons on subjects related to their careers. The featured image is of Sally Hill, now owner of her own Scientific Translations company in the Netherlands. Sally skyping into a Year 10 geography class to talk about International Labour Markets, which the students were studying at the time.
Thinking of involving alumni in lessons? Get in touch with your alumni officer to get a copy of the 'In Curriculum: teacher toolkit'.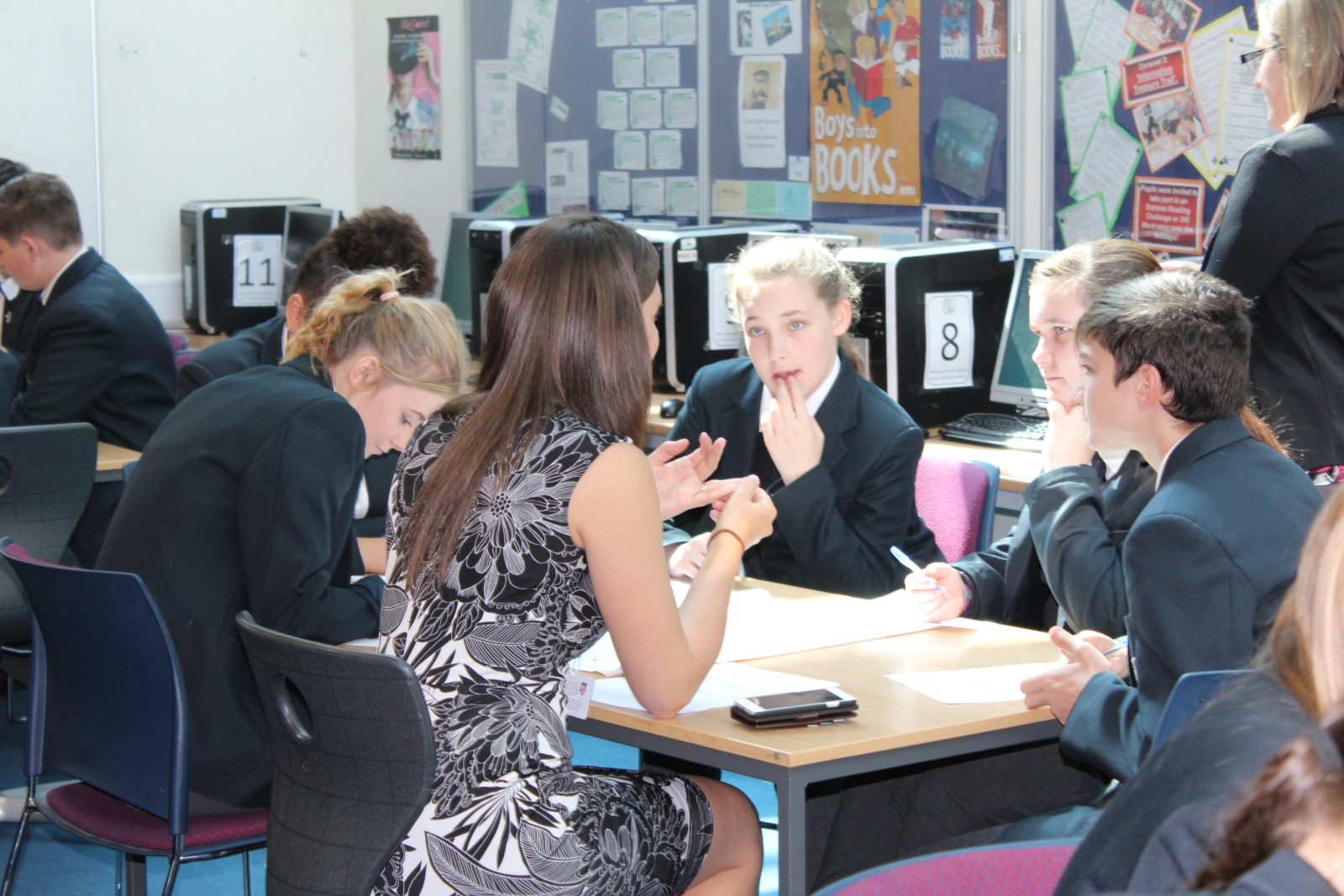 Subscribe to our eBulletin