I began working at Future First in August 2015, so I've been with the charity for almost half of its existence. The simplicity and power of Future First's mission, to see every UK state school and college supported by a thriving and engaged alumni community, was what initially attracted me to the charity.
I attended a state school and grew up in a family of teachers, so exposure to jobs beyond the world of teaching was limited. At 18, I didn't know what I wanted to do, so I went to university like all of my friends did. When I finished, I still didn't know what to do, so tried some English teaching. I always wonder whether my career pathway would have been different if I had been given the opportunity to meet former students while I was still at school.
In my almost five years at Future First, I've worked in a diverse range of roles. I started as a Regional Lead, working directly with schools to help them build communities and engage with their former students. I then moved into the operations team, first overseeing the development of our alumni management technology, and now as Director of Operations and Finance. What I've really enjoyed in all of my roles at Future First is the space for creativity. We are the only organisation helping UK state schools build alumni networks, and so there is endless room for innovation!
By nature, alumni networks are unique, and so the sky's the limit in terms of ways former students can support, inform and, most importantly, inspire young people sitting in their old seats. I've seen alumni lead after school clubs, co-teach lessons that link subjects to skills they use in their jobs, donate money for student trips, join governing bodies, judge enterprise competitions, host students for work experience, video call from the other side of the world, prepare students for university interviews, and lots more. Every student can find a role model, mentor and supporter in a former student and that is incredibly powerful.
Alongside our amazing volunteers, what has continued to inspire me is the passion and motivation of my colleagues. Everyone is united in the belief that state school alumni networks can help ensure a young person's future is not limited by their background, and every day our team are in schools meeting teachers, working with alumni volunteers and interacting with young people to bring our vision to life.
Our tenth year is set to be one of the busiest yet, and I look forward to seeing where we are in another ten years!
Photos from one of our Future First team days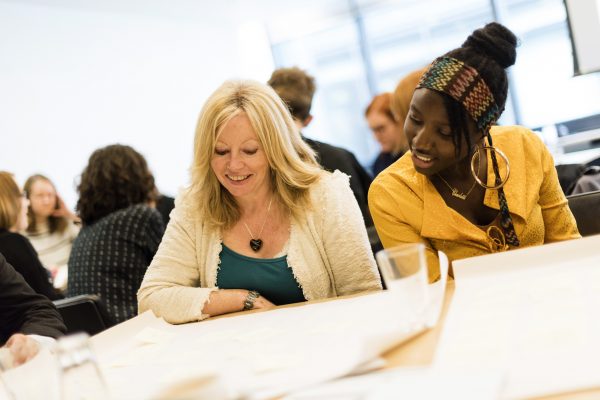 Photos from one of our Future First team days
Photos from one of our Future First team days