As part of our South West scheme, school staff were offered the chance to follow SSAT's Lead Practitioner scheme. As the project comes to a close, two school leads tells us why they chose to do the training and how it will improve their practice.
Jackie Druiff, Coombeshead High School:
"I decided to do the Lead Practitioner (LP) accreditation because it was a free opportunity to pursue some extra professional development and to review and reflect on my practice- it was an opportunity not to be missed.
I haven't really had any similar opportunities in school.  Most development programmes are geared towards wider school development priorities, so this was a valuable new experience for me.
The whole process will definitely help me as a practitioner, much more so than I originally thought when I set out to do it. At first I thought it was a bit of a paper exercise, but in reality it's actually really good because I was forced to reflect on what I do as a practitioner, how I do it and the effect of what I do on my colleagues and students. Particularly in the current climate where everyone is really stretched, it's good to take a moment and reflect on your work.
It's also nice to have someone external to the school looking at my practice.
I know the whole process will encourage me to reflect in the future. Has it changed my practice? Probably. I think to myself, 'OK, if you had to evidence this, what would you use?' or 'what's the evidence/need for implementing this initiative, and how can I measure the impact?'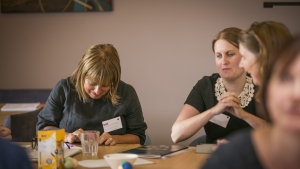 Jacqui Maxfield, Crispin Academy:
"I decided to do the LP accreditation because it looked really useful. I've learnt a lot, but it was far more challenging than I originally thought. I haven't done anything like this since university.
It's been brilliant to think about the impact I'm making and also really useful for the wider school. I've looked at the work I've been doing this year with alumni and my wider work on raising aspirations.
I'm currently trying to become a senior leader in school and the process has really helped me to pursue that. I talked about the accreditation when I interviewed for SLT and I think it was a key reason for me being successful. It shows that I go above and beyond and think about the impact I'm making in school.
I'm still thinking about impact, even though I've finished the whole process. I think I'll continue to think about the impact I'm making in my role day-to-day."