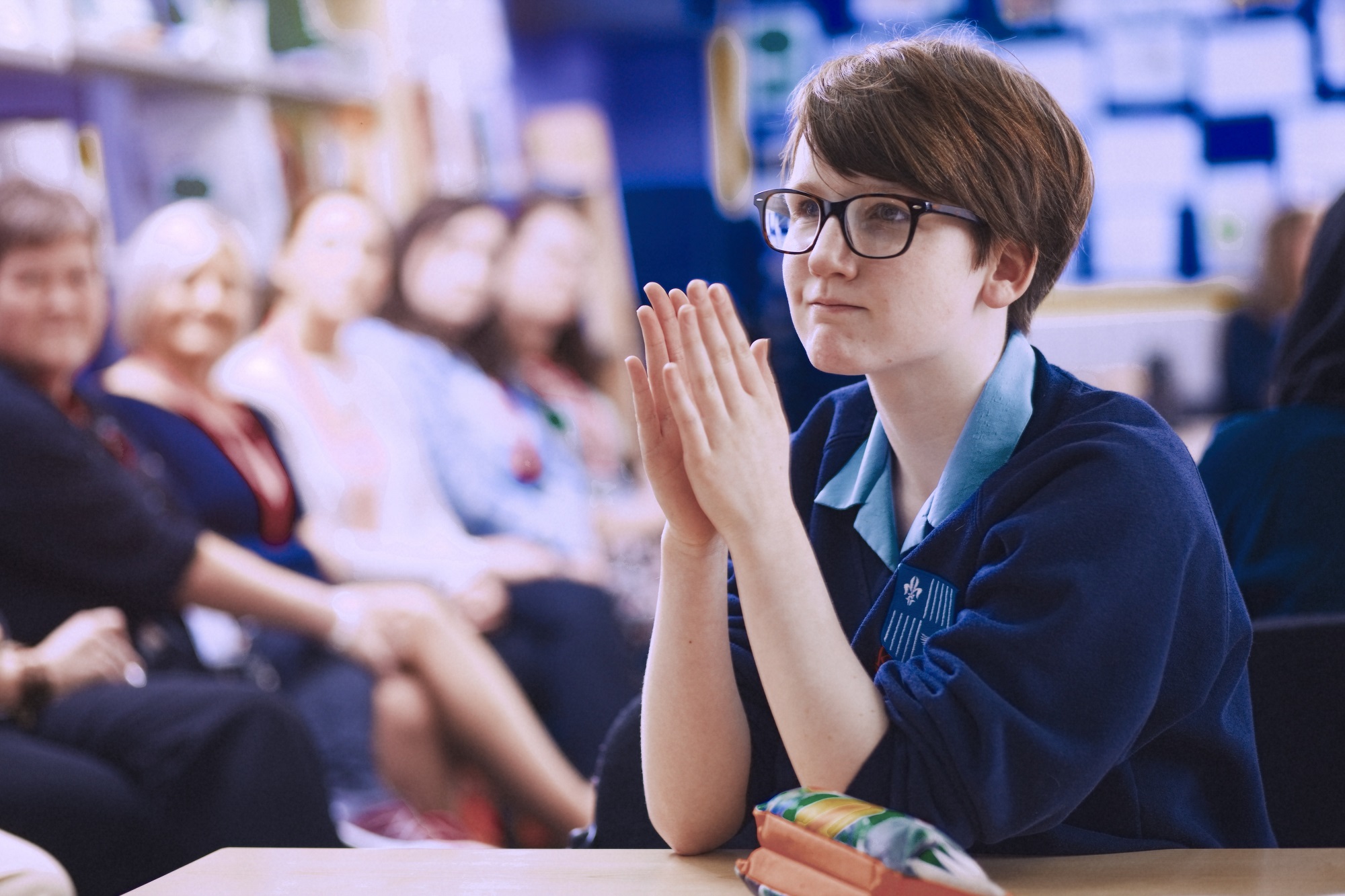 Our vision is a world where a young person's start in life does not limit their future.
Why we exist
Britain has a deep social mobility problem. We are working to change this.
Only one in eight children from a low-income background is likely to become a high earner as an adult. Across the UK young people's experience and opportunities are closely linked to the status of their parents and the area they grow up in.
Our research shows that nearly half of pupils from the poorest backgrounds (on free school meals) don't know anyone in a job they would like to do. We know this affects young people's perception of their own ability, their expectations of future success, and the extent to which they value their school work.
Meeting former students helps to change this, boosting young people's confidence and motivation, and helping to transform their life chances.
Our mission is to see every state school and college in the UK supported by a thriving and engaged alumni community.
Access to relatable role models broadens students' horizons, helping them to imagine a world beyond their own. Having grown up in the same community and sat in the same classrooms former students are ideal volunteers to be such role models.
For generations, private schools and universities have effectively harnessed the talent, time and support that former students can offer. Since 2009, Future First has been making it easier for state schools and colleges to do the same.
How do schools use their alumni?
20 November 2018
Prescot Primary School and their Future First experience
Kim, a Year 5 Teacher from Prescot Primary School in Knowsley, discusses working with Future First to raise aspirations and show their pupils the different pathways available to them in the future.
Our school is situated in Knowsley and serves a diverse range of children. Our motto is "putting the learner first" and we consider this in everything we do with our children. That's why we took up the offer from Future First to work with them as part of their pilot in primary schools. We wanted to broaden our children's horizons by taking a proactive approach to showing them the numerous pathways available in the future.
Lots of our children have quite a narrow awareness of the world of work or things they might like to do after school. We knew that giving them the opportunity to meet former pupils of our school and volunteers who work locally would not only help in raising their aspirations but also with informing them about their future possibilities.
The different workshops our Year 5 children took part in allowed them to speak with a variety of volunteers including a pilot, an editor, an undergraduate student, members of the local council and police officers. I loved watching the children get excited about the future. They really enjoyed thinking about and discussing all the different jobs that they could do when they're older. They asked such insightful questions of the volunteers and listened so carefully to all the advice they were given.
These workshops covered a real range of topics from future skills to stereotypes and closed with the children collaborating to create their own community campaigns. The children were always encouraged to think about the skills they use and to really consider the interests of different people living locally and the impact that they can have on people's lives. The confidence in my class now when speaking to new people or presenting has definitely increased. The children have also been able to see a direct link between the skills they're using or being taught in school and the skills they might need in the future. They now want to do well in class to make sure they can get any job they want!
Some of our children do not have many role models within their household to really inspire them about the world of work. Talking to a range of volunteers has allowed them to find out about different pathways they had not heard of before and given them new experiences to aspire to. Meeting these role models early on in their lives has meant that their awareness of the world of work and the community around them is both challenged and broadened before they need to make any decisions.
To find out more about our primary programme, contact info@futurefirst.org.uk or 020 7239 8933.
14 November 2018
Saints Peter and Paul Catholic Primary School shares their story
Mrs Murphy, Deputy Headteacher at Saints Peter and Paul Catholic Primary School in Kirkby, discusses working with Future First to broaden horizons and the impact that relatable role models have had on their pupils.
Our school is a large Catholic Primary School situated in Kirkby, Knowsley. We started working with Future First because we were still in touch with a lot of former students and wanted to make better use of these connections.
Our school has a real family centred ethos. Lots of our parents are former pupils themselves and the community is very supportive. We thought we'd have a good chance of people being willing to come back into school to raise the aspirations of our children and broaden their horizons.
The workshops the children took part in, raised their self-esteem massively and widened their ideas of what they could do in the future. The fact that the volunteers were from the local community or former pupils themselves was amazing. The children understood them fully and the volunteers were such good role models to them. They were on the children's wavelength, knew how to engage and interact with them but most of all they made sure they embodied our school ethos. They had a personal impact on every child and showed them that they could do anything they wanted to if they worked hard to achieve their dreams. I really liked that the workshops reached out to everyone in terms of the activities on offer which stretched and challenged the children's thinking skills as well as their personal and social skills.
I remember one of the children telling me how the workshops had really helped him to become a better team member. At the start, his group didn't work well together and were arguing but by the end they were much better at collaborating. The volunteers helped them with this. They enabled the children to work collaboratively, often identifying specific roles when working as a team. I think the big thing for me is that the self-esteem of our children really did improve; impacting on their confidence to deliver presentations that they had created.
One of the volunteers during these workshops was Brad, a former pupil and currently a parent of our school. He was fantastic and the children really engaged with him.
We had a graduation ceremony coming up for our Year 3 – 6 children and we wouldn't usually have a speaker but we'd heard how well it worked from another Future First primary school and thought it would be an inspiring thing for our school community too.
We invited Brad to speak to 70 of our pupils and 140 of their parents. He spoke from the heart about his own journey through school and how the children could be anything they wanted to be in the future if they made the most out of every opportunity and didn't let things knock them down. His whole speech really was from his heart and the children could feel this. Everybody enjoyed listening to someone from our local area who had attended this school and had achieved success. It made the children feel like they could do the same.
I'll never forget when he said, "It is not how much money you earn or how successful you are; it is being kind to others that is important." He was really able to embody our school motto: love, care and respect.
I think Brad was also inspired by this journey with us: from being the person who attended each Future First workshop to a speaker at our graduation ceremony before becoming a school governor.
To find out more about our primary programme, contact info@futurefirst.org.uk or 020 7239 8933.
22 October 2018
Fighting misconceptions with Stoke High School Ormiston Academy
Stoke High School Ormiston Academy has been an academy since 2013 and we are a school that has challenges. The proportion of students that are eligible for pupil premium or who have special education needs is above the national average, and a high percentage have English as a second or foreign language.
We also battle with a misconception that those who live in the IP2 postcode, in which the school falls, are unlikely to achieve. We decided to start working with our alumni to challenge this stigma and provide relatable role models for our young people to meet. The more I have met ex-students, the more I can see evidence that the assumption that they won't be successful is simply not true.
As part of our membership with Future First, we received two workshops called 'So you want to be a…'. We ran these with two different groups, but the students in both were under achieving with low aspirations and not showing any focus in school. They had no idea about their futures and were quite apathetic towards post-school options.
The sessions were well-organised, well-presented and the range of alumni volunteers was excellent as we had a former student who had gone straight into a job after leaving school; a former student who had gone to university; and another who had done an apprenticeship. Our students found it really relatable because the alumni had been in their shoes. They gave them a really good insight into the different routes and world of work in general as all the bases were covered.
The alumni also showcased how paths can change direction and this is something that the students really took away, in addition to showing more focus and confidence in themselves. The sessions also highlighted the relevance of school subjects for their futures which was powerful as often students cannot see the point in school. They all came away with food for thought, not one said that it had been a waste of time.
In addition to these workshops, I have also invited alumni back for our mock interview days and as mentors. Mentoring has been particularly impactful for a group of young boys susceptible to gang crime in the area. We have an ex-student that has worked for Suffolk Police, is formerly the President of the National Black Police Association and is currently the Vice-President. She has been coming into school for around a year to act as a mentor – she has done a brilliant job with some tricky students. Initially, this mentoring started off with one male pupil but he engaged with it so well that he actually asked if his friends could also be mentored. The difference in their behaviour has been dramatic, they are more focused and have since asked if they can mentor younger students themselves.
The sessions with Future First have had a real impact on our young people and interactions with our alumni continues to demonstrate the real potential they have for their futures.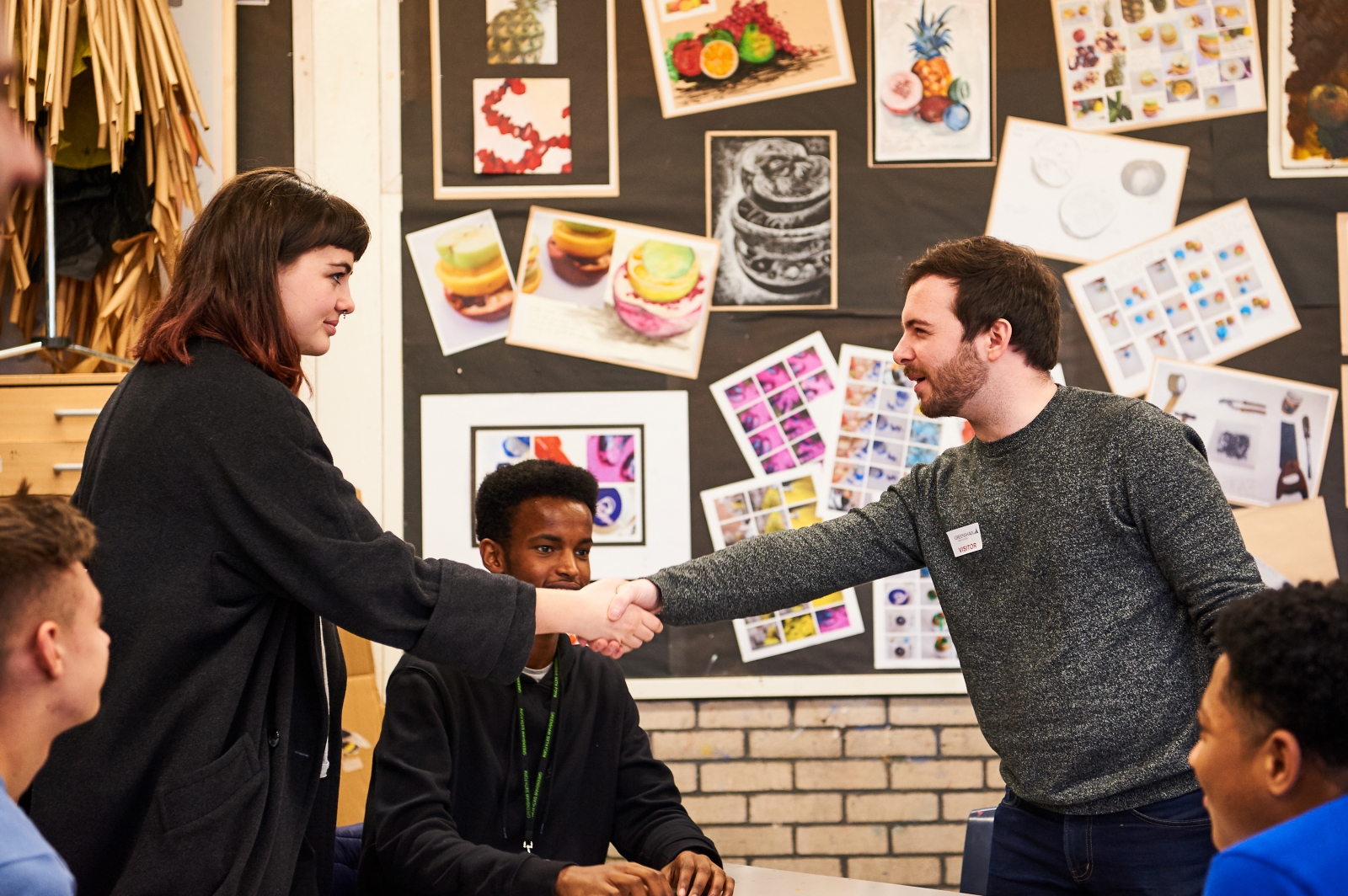 Subscribe to our eBulletin