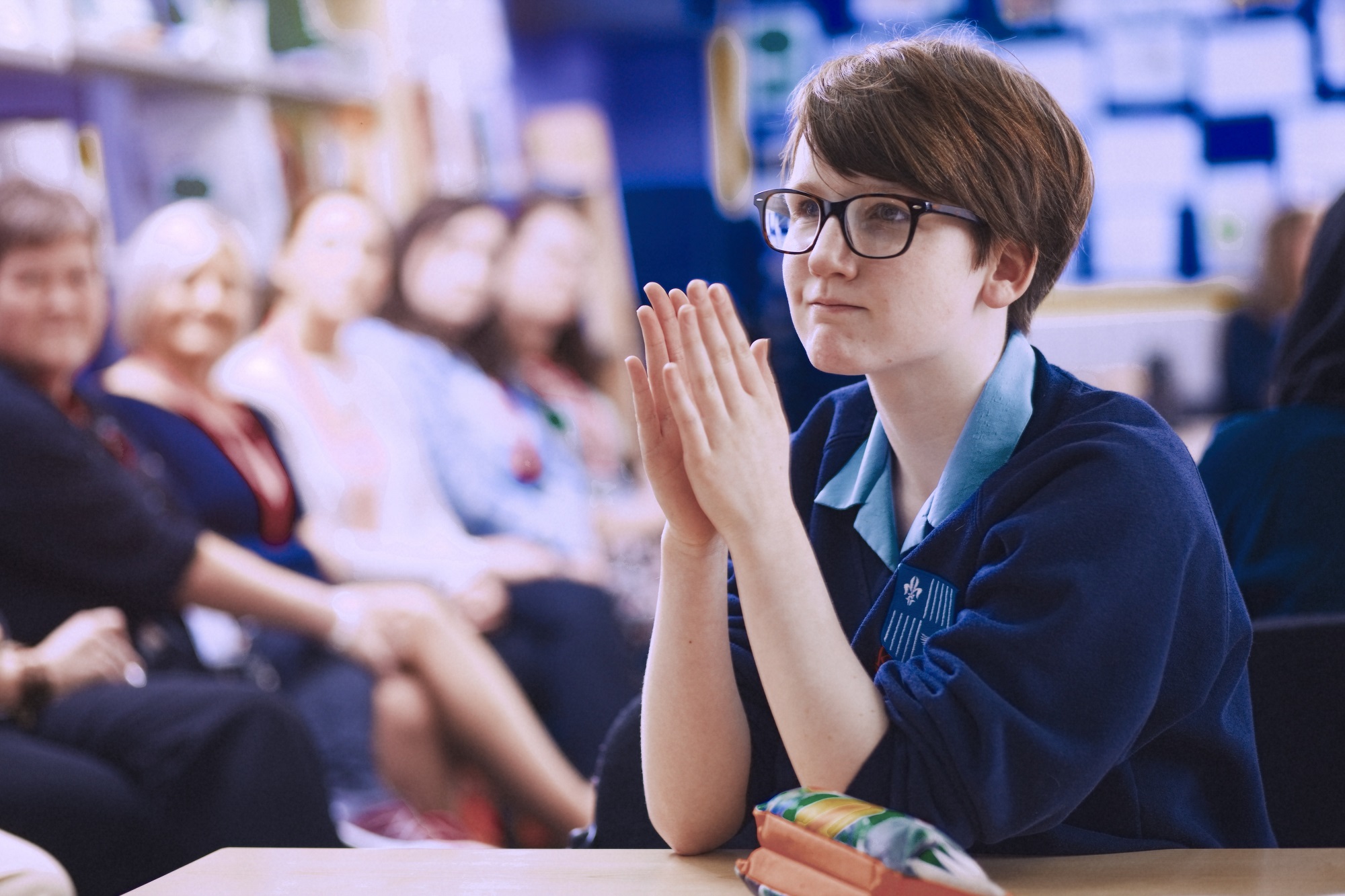 Our vision is a world where a young person's start in life does not limit their future.
Why we exist
Britain has a deep social mobility problem. We are working to change this.
Only one in eight children from a low-income background is likely to become a high earner as an adult. Across the UK young people's experience and opportunities are closely linked to the status of their parents and the area they grow up in.
Our research shows that nearly half of pupils from the poorest backgrounds (on free school meals) don't know anyone in a job they would like to do. We know this affects young people's perception of their own ability, their expectations of future success, and the extent to which they value their school work.
Meeting former students helps to change this, boosting young people's confidence and motivation, and helping to transform their life chances.
Our mission is to see every state school and college in the UK supported by a thriving and engaged alumni community.
Access to relatable role models broadens students' horizons, helping them to imagine a world beyond their own. Having grown up in the same community and sat in the same classrooms former students are ideal volunteers to be such role models.
For generations, private schools and universities have effectively harnessed the talent, time and support that former students can offer. Since 2009, Future First has been making it easier for state schools and colleges to do the same.
How do schools use their alumni?
22 October 2018
Fighting misconceptions with Stoke High School Ormiston Academy
Stoke High School Ormiston Academy has been an academy since 2013 and we are a school that has challenges. The proportion of students that are eligible for pupil premium or who have special education needs is above the national average, and a high percentage have English as a second or foreign language.
We also battle with a misconception that those who live in the IP2 postcode, in which the school falls, are unlikely to achieve. We decided to start working with our alumni to challenge this stigma and provide relatable role models for our young people to meet. The more I have met ex-students, the more I can see evidence that the assumption that they won't be successful is simply not true.
As part of our membership with Future First, we received two workshops called 'So you want to be a…'. We ran these with two different groups, but the students in both were under achieving with low aspirations and not showing any focus in school. They had no idea about their futures and were quite apathetic towards post-school options.
The sessions were well-organised, well-presented and the range of alumni volunteers was excellent as we had a former student who had gone straight into a job after leaving school; a former student who had gone to university; and another who had done an apprenticeship. Our students found it really relatable because the alumni had been in their shoes. They gave them a really good insight into the different routes and world of work in general as all the bases were covered.
The alumni also showcased how paths can change direction and this is something that the students really took away, in addition to showing more focus and confidence in themselves. The sessions also highlighted the relevance of school subjects for their futures which was powerful as often students cannot see the point in school. They all came away with food for thought, not one said that it had been a waste of time.
In addition to these workshops, I have also invited alumni back for our mock interview days and as mentors. Mentoring has been particularly impactful for a group of young boys susceptible to gang crime in the area. We have an ex-student that has worked for Suffolk Police, is formerly the President of the National Black Police Association and is currently the Vice-President. She has been coming into school for around a year to act as a mentor – she has done a brilliant job with some tricky students. Initially, this mentoring started off with one male pupil but he engaged with it so well that he actually asked if his friends could also be mentored. The difference in their behaviour has been dramatic, they are more focused and have since asked if they can mentor younger students themselves.
The sessions with Future First have had a real impact on our young people and interactions with our alumni continues to demonstrate the real potential they have for their futures.
12 October 2018
Frances Bardsley Academy and Future First
Rebecca Woods, Careers Manager, talks about why her school decided to work with Future First and the benefits their young people have seen since meeting relatable role models and learning about the world of work:
Frances Bardsley Academy (FBA) is an all-girls school in Havering with a rich history stretching back to our beginnings in 1906. We have a diverse cohort at FBA with a huge variety of over 40 languages spoken by our students.
Employability is an issue in Havering so we try to prepare our students for the world of work as much as possible, focusing on confidence and careers to support their futures. With a gap in women going into STEM subjects, we also encourage our students in these areas from a young age.
As a former student of FBA myself, I often talk to students about my school days and know that they appreciate hearing about my experiences. So when the idea of working with Future First and engaging our alumni was first floated by the Head, I saw the value in it straight away.
Our alumni love coming back to the school and we've had success in them returning for our Career of the Month talks where they discuss their careers and the pathways they took to get there. When designing a brand new 16+ Day for Year 10 students, I was keen to involve alumni in this as well.
We had a total of 10 alumni volunteers at our 16+ Day from many different pathways and different stages of their careers. It was fantastic for our students to be able to hear from a variety of alumni all on one day and to speak to people who had sat in the same seats as them.
We had overwhelmingly positive feedback from both alumni and students about the day. Students said speaking to alumni broadened their horizons by thinking of the variety of options they have after school. They also wanted to give back by joining the alumni network when they leave.
There was a buzzing atmosphere after our 16+ Day with students talking about careers and their future – a great end to the academic year and a show of motivation as they go into Year 11. Already students have proactively approached me for careers advice, as they start to think about their future plans and what will motivate them for upcoming exams.
My experience with Future First has been really positive and beneficial for the school. I'm looking forward to continuing to work with them.
09 August 2018
Why did Saint Benedict Catholic Academy, Derby choose Future First?
Nicola Campbell, Careers Coordinator and English Teacher:
Saint Benedict Catholic Voluntary Academy is the only Catholic secondary school in the Derby area. We currently have around 1200 students and above average pupil premium numbers. Saint Benedict is a very diverse school where a great deal of languages are spoken.
We decided to start working with Future First because we had contact details for a significant number of our alumni, but weren't really utilising these connections. I also knew how much I enjoyed receiving communications from my former secondary school and wanted to give our school alumni the same opportunities to keep up to date with what is happening and get involved.
Future First planned and delivered a World of Work Day at the school that focussed on increasing student knowledge of careers. Six alumni came along, giving our current Year 9 students the opportunity to meet people from a variety of industries, from a self- employed dance teacher to a business development director and even a child clinical behaviourist.
The day gave students the opportunity to speak to alumni who are all at different stages in their life, some who have been in established jobs for a considerable period of time, and others who are only just starting their journey. This meant our young people had their eyes opened to the variety of different options available to them when they leave school.
As well as getting to speak to alumni, our Year 9 students also spent time learning about misconceptions associated with different pathways, and had the opportunity to consider their own skills and how they might be useful in their future career. One of our former students was even kind enough to stay behind after the session and deliver a dance workshop in a Year 10 PE lesson.
I feel that the World of Work Day had a hugely positive impact on the Year 9 students who took part. They were interested in the workshops and senior leaders who were present commented on how impressed they were the interaction and engagement. There were lots of fantastic discussions going on and, based on pupil feedback, there seems to have been an increased sense of self belief amongst the students.
I think that all of our pupils benefited from meeting the alumni and one pupil has gone the extra mile as a result of the workshop. This pupil was particularly inspired by one former student, Rachael Stevenson, who works in the events industry. After the workshop had finished she got in contact with our careers adviser and asked whether it would be possible to be mentored by Rachael. Rachael has now kindly agreed to do this and I am sure that the mentoring is going to be of great value.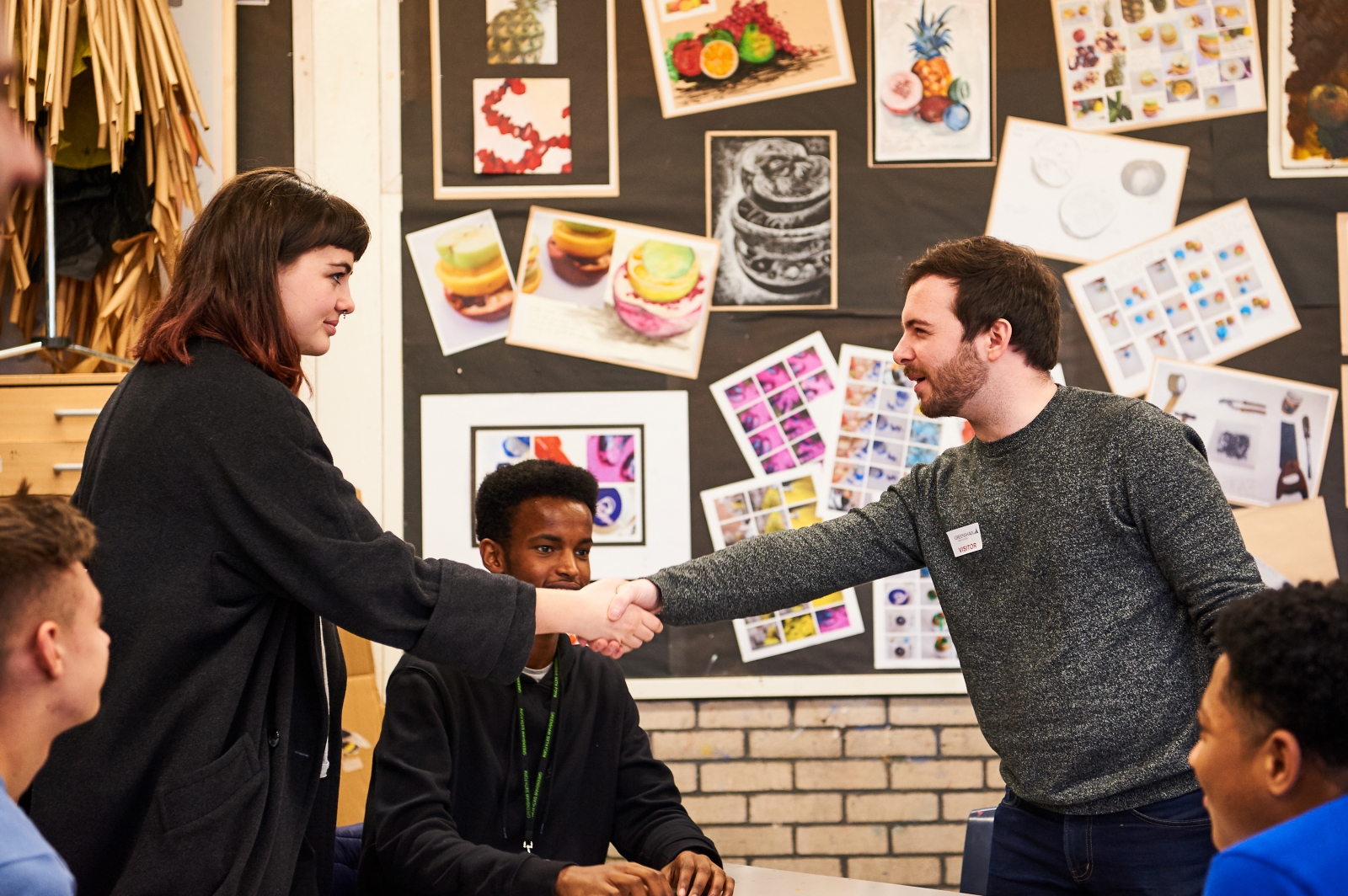 Subscribe to our eBulletin